Paint Your Own Flag
By now you've probably read all about Ivor Evans, the Schoolboy who was one of the five designers of our Australian flag back in 1901.
Ivor decided to use the stars of the Southern Cross because they were only visible in the Southern Hemisphere. In fact, the Southern Cross is the brightest constellation in our southern skies, So Ivor thought it would make a good symbol of Australia's bright future. He also liked the Southern Cross because the stars stand for the virtues of justice, prudence, temperance and fortitude. In other words the Australian National Flag displays symbols which can inspire us to be fair to others, to carefully plan for our future by improving our knowledge, to build healthy bodies and to form strong and positive characters.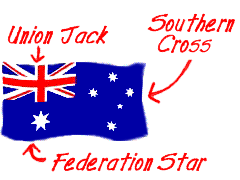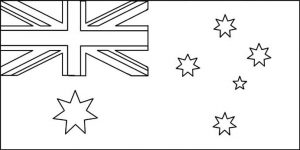 The large star below the Union Jack is called the Federal or Commonwealth Star. This seven pointed star stands for the six states and the territories of Australia.
The Union Jack represents Australia's history and heritage.
To paint your own flag just click on the image above. This will take you to a blank illustration of The Flag. Just print it out, and grab your paints, pencils and crayons…
Happy colouring!