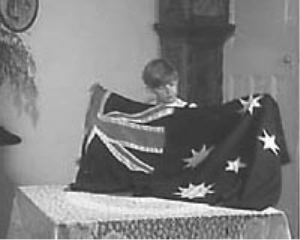 On 1st January 1901, six separate British colonies federated as a new and independent country. The Commonwealth of Australia officially flew the flag of the British Empire as well as the popular but unofficial Australian Federation Flag until a nationwide competition to design a new flag was held. The prize money was two hundred pounds, which, today, is roughly equivalent to four years' average wages – a great deal of money indeed.
There were five finalists with identical designs. One of the designers was Ivor Evans, a fourteen year old schoolboy. Ivor had very clear ideas about what his flag meant and what he intended it to say about Australia and Australians. He believed that the Southern Cross, the brightest constellation in the Southern Hemisphere, was representative of Australia's bright future as a leading nation. However there was another reason for his choice of the Southern Cross. The poet, Dante, wrote about four bright stars which symbolised the four moral virtues of justice, prudence, temperance and fortitude – principles that Australians should live up to.
The Commonwealth Star was another significant symbol. Its six points represented the six newly federated states. In 1908 a seventh point was added to represent all the Federal Territories which, today, include the Northern Territory, the Australian Capital Territory, The Cocos Islands and the Australian Antarctic Territory.
The Union Jack
Ivor believed that the flag of the United Kingdom, Great Britain, had a place on Australia's flag because of the historical links between our island continent and the British isles. Australia had been colonised by the British in 1788, and one of the first things they did on Australian soil was raise the Union Jack. The flag has been part of our history ever since. Ivor believed that its "honourable place" on the Australian flag recognised this fact – a new nation paying respect to its origins.
Ivor Evans made a flag that he filled with symbols of his hopes for the nation's future. They were his call to the citizens of a brand new country to rise to the challenge of independent nationhood. But he did not forget the past when he incorporated those very same designs, symbolic of Australia's history and geography, into the flag that would represent her all round the world.