1901 – 1913: Federation and Pre-World War I
1901: Federation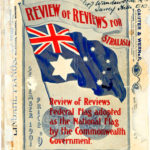 The edition of the Review of Reviews front cover signed by Egbert Nuttal, after the winning designers were announced.
1901 – 1903: Original design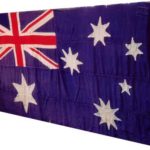 Rare original Australian National Flag, 12' x 6', 1901 – 1903 pattern. Courtesy of Marian and Alan Clarke
1902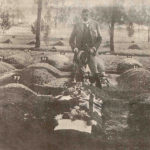 Australian Flag covering the grave of 'Breaker' Morant, South Africa, February 1902.
1908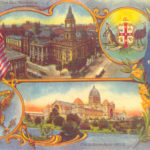 Greeting Card for Melbourne commemorating the visit of the American White Fleet of United States Naval Ships 1908.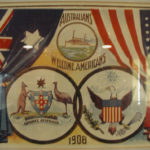 A poster commemorating the visit of the US Navy ships in 1908.
1910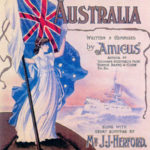 Music written and composed by Peter Dodds McCormick who wrote the Australian National Anthem.
1913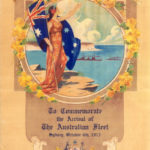 A commemoration of the arrival of the Australian Fleet.
1914 – 1918: World War I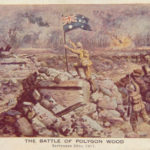 Victory.
Lt AVL Hull of the 18th Battalion AIF, plants the Australian flag on a German Pillbox as Australian forces overrun Anzac Redoubt, on the Menin Road, during the famous battle of Polygon Wood (Belgium) in WW1.
This dramatic incident took place at 7:15 AM on September 20th 1917. Lt Hull was killed in action three weeks later.
This picture was used as a Christmas and New Year's Greetings card in 1917-18.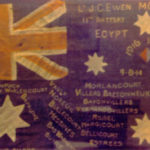 Flag carried to many locations during the war period by a member of the Australian Army Corps.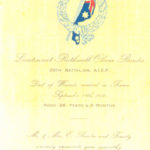 Military Death Notice, October 1916.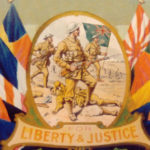 WW I Certificate of Appreciation.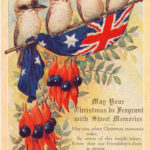 WW I Military Greeting Card.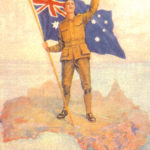 WW I Military Greeting Card.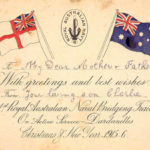 Royal Australian Navy Christmas Card 1915-16. Postcard sent to parents by A.C (Charlie) Connell.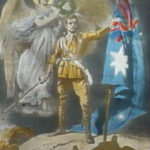 World War I postcard shows an Anzac with the Australian flag at Gallipoli.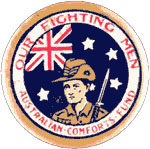 Patriotic badge from World War I. The Comforts Fund raised great sums of money at home in Australia from civilians which went towards the war effort. Concerts and fairs were organised, and badges such as these were sold.
Commemorating the Naval Victory of the HMAS Sydney over the German Light Cruiser Emden, 1914.
1919 – 1938: Between the World Wars
1919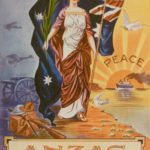 A greeting card commemorating ANZAC Day.
1939 – 1945: World War II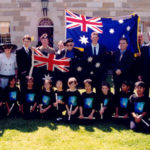 Colonel Harry McKay with his treasured WW II Flag.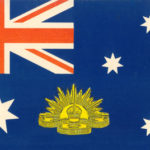 The Flag of The Commander-In-Chief
Australian Military Forces 1942-45, Sir Thomas Blamey.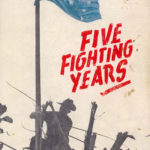 The pictorial cover is a photographic record of Sgt. Derrick raising at Satelberg the Australian flag which had been flown previously over recaptured Kokoda and Lae (1943).
1950 – 1953: Korean War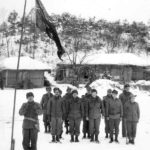 Australian soldiers are standing to attention in their snow covered camp during the Korean War in 1951. The Australian flag is being hoisted by W.J. Harrison.
1953 to Present
1987
.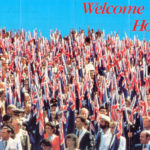 On 3 October 1987, the Australian public finally welcomed home those men and women who served in the Vietnam War.
2004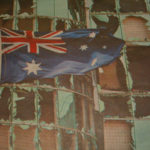 The symbol of our nation in front of the bombed Australian Embassy in Jakarta, 9 September 2004
2007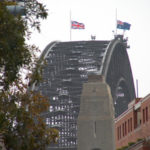 Australian National and Union flags at half-mast signalling sympathy between nations following bombings in London. Courtesy, RTA and Premiers Dept. of New South Wales.