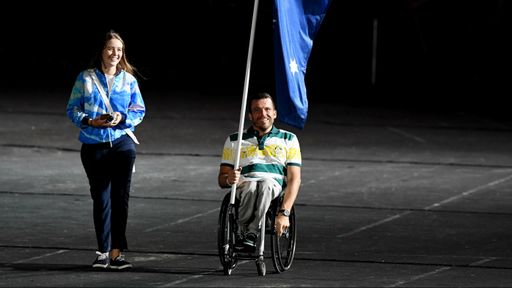 April 16th, 2018: Commonwealth Games, Gold Coast
Kurt Fearnley, Australian Gold medalist wheelchair racer, was our Flag Bearer at the Commonwealth Games closing ceremony on the Gold Coast last night. But he was not broadcast on TV!
The Commonwealth Games organisers decided not to broadcast the athletes entering Carrara Stadium in the closing ceremony last night, denying viewers the images of flag-bearing athletes of all nations, including Australia's Kurt Fearnley.
The Chairman of GOLDOC, the Games organising committee, Peter Beattie, told Channel 7's Sunrise program this morning, "We made a mistake. The reality was the athletes came in as part of the pre-show. Kurt came in with the Flag, but that wasn't shared with viewers. That was clearly a stuff up."
"You can have a blame game from now until eternity but the reality is, I'm chairman of the organising committee, the buck stops with us. I'm not interested in blaming anyone but us… That's our fault … that's my fault … I apologise to you and anyone else," Mr Beattie said.
GOLDOC awarded a $29 million tender to a US event and promotional marketing firm, Jack Morton Worldwide (JMW), to manage the opening and closing ceremonies of the Commonwealth Games at the Gold Coast. Despite this being the Commonwealth Games, GOLDOC decided in 2015 to award the tender to a US company, in preference to three Australian bids.
Queensland Premier Annastacia Palaszczuk told reporters, "At the end of the day, we appoint an agency to run the day to day operations of the games, and that day to day operations was GOLDOC and whoever made that decision not to allow those athletes to march in should hang their head in shame," Ms Palaszczuk said.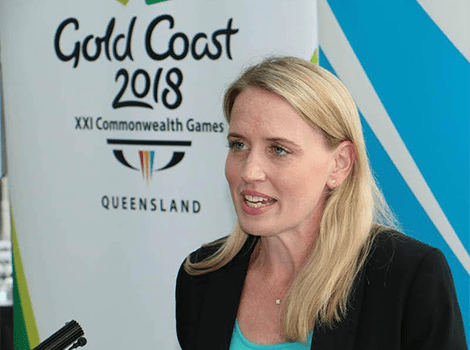 The Minister for Tourism and the Commonwealth Games, Kate Jones, told reporters today, "We were consulted last year and we were advised that the closing ceremony would follow the tradition of having athletes walking into the stadium, and of course, an amazing Australian holding the Flag. That didn't happen, as you saw. We were not consulted about it not being part of the broadcast."
Kurt Fearnley, 37, from Cowra, NSW, is one of Australia's most accomplished paralympians, specialising in the Paralympic T54 classification races. He won Gold in the Marathon and Silver in the 1500 metres at the Gold Coast Commonwealth Games. He has previously won medals (including 4 Gold) for Australia in the Paralympics at Sydney, Athens, Beijing, London and Rio de Janeiro, as well as previous Commonwealth Games in Delhi and Glasgow. He has also won 4 Gold in total at the IPC Athletics World Championships in Assen and Christchurch.
(photograph sources AAP, CIM Magazine)